Skiving & Roller Burnishing
Developing and manufacturing The World's Fastest Skiving & Roller Burnishing machine doesn't happen overnight. We have perfected the Sierra USA® with features such as a single touch screen, and air conditioned electronics.
View Current Inventory
Upgrade Your Sierra
We offer only the best machinery, that is why The Sierra USA® utilizes just a single Touch Screen (HMI). This allows for complete control of the Sierra USA®.
There are conveniently placed manual controls on the clamp and headstock of the machine to assist the operation in skiving & roller burnishing set-up.
Inside the machine, our industry standard electrical components are housed inside an air conditioned electrical cabinet. This climate controlled system allows the system to perform as expected, regardless of temperature or humidity conditions. These controlled temperatures allow the electronics to experience an increased work life; another reason to experience the Sierra USA®.
With the power of the Touch Screen (HMI), Sierra Machinery provides the ability to store part numbers for routine jobs. With this critical component simplified with the technology of the Sierra USA®, you don't have to worry about inputting specific parameters every single time the machine is used.
Work is simplified and streamlined with the power of the Sierra USA®.
The Sierra USA® is the fastest in the industry.
An operator can perform a complete change on a 10ft machine in under 11 minutes.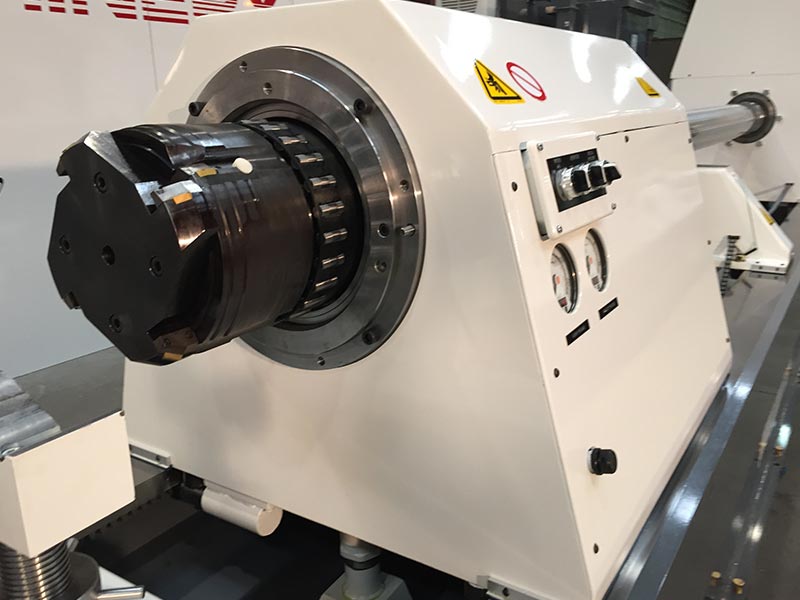 Along with part and job settings, the Touch Screen (HMI) has alarm screens detailing any warning issued by the machine. The Touch Screen also comes with a supervisor password protected area, which allows you to eliminate operator interference when it comes to the storage of information on your parts and jobs.
Sierra Machinery also offers Service Packages at competitive rates should there be any need for a technician to visit. However, to alleviate this, all our machines are fitted with Remote Access capability. We gain access to the Sierra USA® once you have run an Ethernet cable to the Sierra USA® and in some cases by modem using a telephone cable. This gives Sierra Machinery the ability to diagnose issues in real-time. Along with our standard 12 month warranty on all new Sierra USA's®, the Sierra USA® is the best choice for speed, efficiency, and quality!
The World's Fastest Skiving Roller Burnishing Machine Manufacturer provides an unrivaled product with

no compromises.
The Sierra USA® Patented Tooling is sold exclusively to customers under Sierra Machinery, Inc. contracts. Sierra USA® Tooling is not sold or warranted to manufacturers using other machine brands.
Key features of all Sierra USA® Patented Tooling
Pressure compensated rollers require no pre-setting.  We do not size with rollers.
Consistent surface finishing.
No over rolling or laminations.
No guide pads to wear out.
Versatility in choice of inserts and tools for a variety of materials and amounts of stock removal.
Rough cutting, skiving, and burnishing in one forward pass.
Surface finishing can be changed easily at the operators control panel.